About Interior House Painting
Considering interior house painting? Are your interior walls of your home looking a little dull? Maybe you're tired of white or off-white walls and want to liven up things. If this is you, then take note, there a few things you may want to consider before you pull out the paint rollers and start your interior painting project. Interior house painting makes for great weekend DIY projects. The fall and winter months are a good time to take on this task. By the time Spring rolls around your home can have a fresh new look. Interior color trends change, so you want to know what's hot and what's not.
Before you head out to the nearest home improvement or paint store, check-out these 4 things you need to know about interior painting.
Don't Be Afraid of Color
Color is everywhere so why settle for boring when it comes to the interior paint color of your home. Be bold and daring and transform each room with its own unique theme. Or find a color theme to play with throughout the house.
You can even create contrast by using a satin finish in one room and a matte finish in another. Or you can stick with a semi-gloss on every wall. But be ware, semi- gloss will emit a bit of shine.
The goal is to step out of your comfort zone and try new colors.
Let Technology Help You Choose
Don't spend hours or days going back and forth to the paint store in search of the perfect paint color. Plus, those sample cards can often be off if the lighting isn't right. Thanks to technology, you can now paint your wall virtually with apps you can download to your phone.
Each app has its own feature. Some are from the makers of specific interior paint brands.
Measure Rooms to Get the Correct Amount
Don't make extra work by running back and forth to the store to buy extra paint. You also don't want to get stuck with too much paint.
Measure your room from ceiling to floor and corner to corner. You will also want to measure the size of both the doors and windows in the room.
Once you have the area of the space, multiply by 2 to cover the two coats you will most likely need. If you choose not to prime your walls you may need additional paint. It is best to buy paint that already has the primer included. Do your homework to understand paint quality.
Mix Gallons for Uniformity
Just because the paint you buy is mixed using the same formula, it doesn't mean it will be uniform once applied to your walls.
To avoid this issue, get a 5 gallon bucket from your home improvement store and mix the cans of paint. In painting terms this is often referred to as boxing the paint together. If the container does not come with a lid you may need to pour it back in the original cans. Otherwise, you will need to get your painting done in one day.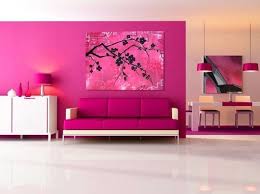 What's a Monochromatic Color Scheme?
When colors are in harmony with each other you can call them monochromatic. Harmony doesn't mean every color is the same. Instead, you'll have a well-balanced room with dramatic color variations.
For example, you could choose a gentle red color for the main interior walls. Then use different hues of red for your decorations. Have fun and be creative as you play with your interior palette.
Smoothly Transition Room Colors
One of your goals should be continuity from room to room. If one room has a cold wintery feel, the next room shouldn't be a brilliant red theme. Instead, the next room could be more silver than white and slowly you can transition to louder colors.
One way to help the rooms tie together is to get multi-colored decorations. Ideally, you should find several decorations that all use the same 3 colors. Let's say you find garlands that use gold, silver, and red. Then you can use paints in separate rooms, using those colors.
One room will be gold, one silver and one red themed. In a common living area, you'll use the multi-colored garlands. While each room expresses its own individuality, the entire home will be one visual delight.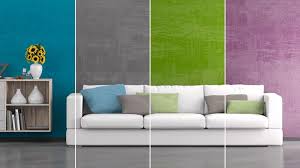 Oil-Based Versus Water-Based Paint
There are options when it comes to what type of paint to choose for your home interior. There are several different kinds of water and oil based paints. We won't be able to cover them all. But here are a few of the standard varieties.
Oil-Based Paint
Oil-based paint typically dries more slowly. This will increase the chances of it leveling and eliminating brush strokes. Oil based paints are used for several applications. As it pertains to interior house painting, it's typically applied on wood or interior trim. surfaces. But with everything there is always a drawback. Oil-based paint is more likely to turn yellow, crack, or fade were there is little light. Especially on the back sides of closets door.
Another thing to consider is the fumes of oil paint. Oil-based paint is considered a household hazardous waste.
It's flammable and has to be disposed of properly. It has extremely high levels of volatile organic compounds (VOCs) like toluene and xylene.
Oil-based paints are also notoriously difficult to clean. If you get paint on a surface, you need to clean it with a toxic chemical such as mineral spirits or denatured alcohol.
Water-Based Paint
Water-based paint – also known as acrylic or latex paint – dries faster and is less likely to turn yellow over time. It also doesn't give off those strong fumes. If you get paint on interior surfaces, you can easily clean it up with water and soap.
In fact, water-based paint is more environmentally-friendly. It's not considered a hazardous waste. Just make sure you purchase an acrylic enamel if your searching for comparable durability of oil.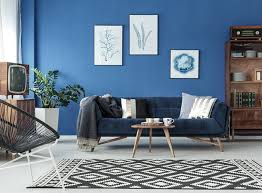 Never Underestimate the Primer
One of the keys to getting a great, even finish is priming your walls before you paint your walls. The primer evens out small differences in texture and color. It also helps paint cover better if you're painting over a bright or dark color.
Primer is especially important if you have patches or holes in your wall. These materials can interact with paint in a different way so the texture looks different. A primer will even it out so you that after you paint, you can't even tell the patch existed.
However, professional interior house painters that have a high level of product knowledge may be able to recommend specific paint products that are less likely to flash.
Quality and Color
Another huge factor to consider, of course, is the cost of the paint! Some contractors will offer you a specific set of colors and/ or products that are already included in their price and fees. Others will require you to buy your own paint upfront, it really just depends on who you go through.
If you are purchasing your own paint, the quality and color will make a big difference. Some paint colors are difficult to achieve, and will, therefore, cost more to purchase. Therefore, hiring a full service painting contractor maybe the way to go. They should be able to offer recommendations based on the painters experience applying several colors and products.
Some paints have a much higher value because of the sheen, the thickness, ease of use, and more. A cheap bucket of paint can cost as low as 15 bucks. However, in most cases you will end up using more product due to lack of coverage. While it may be tempting to buy the cheap stuff, especially when you're going to be needing 10-plus buckets for a whole home job, it's important to remember that you get what you pay for.
Whereas, some 'higher end' paints can cost up to $70 or more for a bucket! In most cases, they are simply overpriced and you will never see the real value for the additional cost associated with such a premium.
Picking quality paint will give you better-looking results that require fewer coats and last much longer. Keep that in mind when pricing or receiving recommendations.