How to Choose Your Wedding Photographer
It's key that you book a great photographer to capture your wedding. Follow these steps to find the perfect wedding photographer to document your day.
Couples often say that their wedding day passes by so quickly that it's difficult to soak up every little moment and commit all the emotions to memory. All of your wedding vendors will take care of the details so that you can hopefully sit back and take everything in, but your wedding photographer plays the biggest role in preserving the magic of the day. Your wedding photos will take you back in time and give you the opportunity to relive everything—from incredible moments you might have missed to your favorite memories to reminisce about.
Needless to say, it's key that you book a great photographer to capture your wedding. If you aren't sure where to start or how to choose your wedding photographer, you've come to the right place: follow these steps to find the perfect photographer to document your day.
Steps For How to Choose a Wedding Photographer
Set Your Budget
Your first goal is to set your wedding photography budget. There are a lot of photographers out there, so knowing what you can spend will help you narrow your search right away to photographers who are in your price range. Keep in mind that the cost of wedding photography varies a lot depending on your location, the photographer's experience, and their package offerings. Today, the average price of wedding photography is around $2,000.
Figure Out Your Style Preferences
The next step is to figure out what photography style appeals to you. A photographer's style will determine:
How The Photos Are Taken
What Your Photos Will Look Like
How the photographer will interact with you and your guests on the wedding day.
Do Some Research
After you've set your budget and settled on a style, explore wedding photographers online that fit your criteria and start compiling a list of your favorites. Or, ask your recently married friends and family about their photographer and if they recommend him or her. As you explore, make sure to look through each photographer's portfolio of work and read reviews from other couples.
Connect and Request Quotes
When you're ready, begin reaching out to the photographers on your list to introduce yourself, request a price quote, and ask questions. See the section below on how to request a wedding photography price quote, which includes a sample inquiry template and questions you should be sure to ask.
Meet With Your Favorites (Optional)
Having a great connection with your photographer is important. He or she will be by your side throughout your entire wedding day, so it's essential that you feel comfortable and relaxed in their presence. A great way to get the know the individual behind the camera is to request an in-person meeting (or a video or phone chat) to talk through the wedding details and get a feel for each other.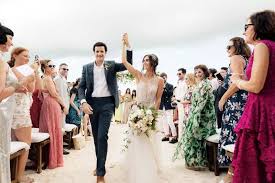 Compare Your Top Choices
If you're considering multiple wedding photographers, begin to narrow down your options by thinking through how they compare in the following categories:
Cost — Is one of your options significantly more expensive or cheaper than the others? Does the quality of their work align with the cost?
Personality — Is there anyone with whom you made a great connection? Do you feel comfortable with all of your options?
Experience — Who has the most experience? Does level of experience matter to you?
Reviews — How are the reviews for each of your candidates? Are there any trends—good or bad—in the reviews you read?
Offerings — How do the package offerings compare across your options? Which package gives you the most bang for your buck?
Book!
Now it's time to book the wedding photographer of your choice. Keep in mind that if you wait a significant amount of time between your initial outreach and when you're ready to contract their services, they may no longer have your date available. So while we encourage you to weigh your decision with care, it's also important to not delay too long.
The booking process is different for every photographer, but it typically looks like this:
Let the photographer know that you want to book them and confirm that your wedding date is still available.
Your photographer should send contract for your to review and sign. Pro Tip: Never work with a wedding vendor who does have a contract. The contract serves to protect you and the vendor in the instance of legal disputes, outlines the exact nature of your business relationship, details what services and products you will receive, and communicates the vendor's policies.
Sign the contract, return it to photographer, and pay the deposit.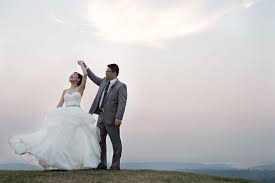 What To Ask Your Wedding Photographer
Booking a wedding photographer can be a tough process. You're trying to find someone who is going to be spending one of the most important days of your life with you! You need to make sure there's compatibility, but that there's also appropriate coverage for everything you need, and that's why it's important to know what questions to ask your wedding photographer.
Wedding planning can amount to a lot of work, and sometimes it's difficult to know exactly what questions to ask to get what you need out of your wedding photography. They have one opportunity to get it right, so these are the best questions to ask your wedding photographer to make sure you're both on the same page and ready to go.
Background Questions To Ask Your Wedding Photographer
How long have you been shooting weddings?
How did you first get into wedding photography?
What is the most memorable wedding you have shot?
What is your favorite part about shooting weddings?
How would you describe your wedding photography style?
Do you have multiple shooting styles?
Do you prefer candid or staged images?
Questions For Your Engagement Photography
Do I need engagement photos?
Do any packages include engagement photography?
How should we dress for our engagement shoot?
Do you have any location suggestions for engagement photography?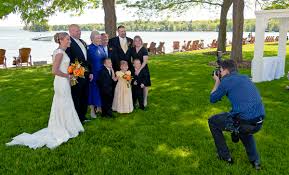 Photography Style
How Would You Describe Your Photography Style?
There are three main types of photography style, which you can find out more about in our photography glossary. Briefly, they're reportage, which is candid and tells the story of your day; traditional, which focuses on formal, posed group photos and classic shots; and contemporary, which is more fashion-led and editorial.
Ask your photographer to show you their favourite wedding photo and you'll get a good understanding of their vision and style.
Can I Speak to Some Former Clients or Read Testimonials?
Any good photographer will be happy to put you in touch with former clients as they know they'll get great feedback on their work! If they try to put you off speaking to former couples or the testimonials on their website don't match up with reviews on other sites, be wary.
Will I Be Able to Give You a List of Specific Shots We'd Like?
A shot list is a list a couple gives to their photographer with the absolute must-have photos they need them to capture, like a special photo with your Grandma and Grandad. Most photographer should accept this no problem, although don't request too many or it can take time away from capturing the candid moments of the day. If a photographer refuses, the day may be more about their vision than yours.
Do You Offer an Engagement Shoot as Part of Your Package?
An engagement shoot is a brilliant way to get comfortable in front of the camera and get to know your photographer. You'll get used to being directed and perfect your winning smile. If an engagement shoot isn't included with your package, it's worth negotiating one in or paying extra for one.
On the Day
What Time Will You Arrive at the Venue?
Get it in your contract whether your photographer will be there while you're getting ready or they'll meet you at the ceremony. Most couples will want the prep and journey to the venue captured as it's such a special part of the day, but it can be cheaper if you're on a strict budget to cut down on the photographer's hours and not include these.
Do We Need to Provide You with Food?
It's completely up to you whether you provide your photographer with food, but it's the polite thing to do. They'll be working 10+ hours for you and will need sustenance.
Ask your photographer what they'd like: you can arrange for them to have a plate and sit at one of the tables or somewhere else, or you can put money behind the bar or give them a meal allowance if they'd prefer to cater for themselves. They're unlikely to be taking lots of photos during the meal anyway as no one wants the moment they stuffed half a chicken supreme in their mouth caught on camera.
Do I Need to Cover Travel Costs?
All this information should be clearly laid out in your contract to avoid unexpected charges. You'll want to know if petrol or overnight accommodation need to be covered by you. Always expect that a destination photographer will require you to pay for travel and accommodation.
Will You Be the Primary Photographer on the Day?
National agencies have multiple photographers on their books so you want to know the person you're talking to is the photographer you'll get. Even if they are at the wedding in a second shooter capacity, make sure you meet the primary shooter in person before you pay a deposit.